Posted by jennibarrett in Uncategorized.
Tags: architectural education, collaboration, social media, sustainability
1 comment so far
A great day at the fabulous GMex/Manchester Central (still full of memories of James's 1990 Sit Down gig) with the @Be2Camp  crowd at GreenBuild Expo 2014 and hosted by LSI GreenVision.  This year Be2Camp took control of the main stage, complete with headsets and roadie tshirts!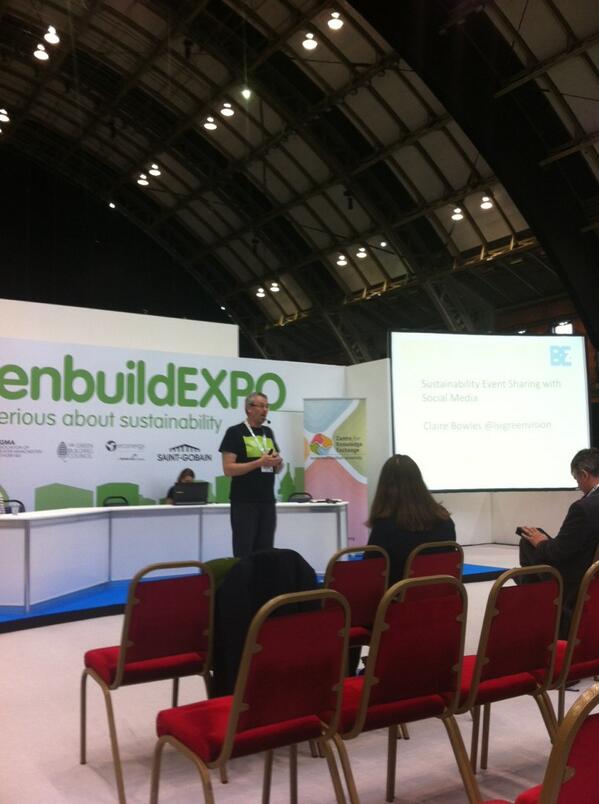 Highlights for me, were Alex Whitcroft's rapidfire talk on how the Collaborative Economy is changing architecture and construction as well as the initial forays into immersive environments that look set to change how we collect and disseminate building information during user/public/client consultation (David Burden).  I was also intrigued by Claire Thirlwall's possibilities for paperless project management.  I gave a brief presentation too – on 'Social Studio' which looks at the way social media could help in giving students (& industry, & practice) the best environment for discussing personal and collective values using a variety of interactive platforms – many of which we've already piloted at UCLan.  Here are my slides…..

Feel free to share & if you would like to find out more, feel free to drop me a line.
Also, here's a selective Storify of the event…
March 14, 2014
Posted by jennibarrett in Uncategorized.
Tags: communication, social media, Words
add a comment
"Through talk, we tamed kings, restrained tyrants, averted revolution"
Tony Benn (1925-2014)
Posted by jennibarrett in Uncategorized.
Tags: architectural education, BE2Camp, collaboration, greenwash, social media, sustainability
2 comments
Yesterday, I had the privilege of being invited to speak with the BE2Camp at the Greenbuild Expo at Manchester Central.
BE2Camp is is a place, a gathering and a learning environment set up by four web 2.0 enthusiasts who also share a vision of building a more sustainable environment.  Their egalitarian and collaborative ethos was evidenced by the structure of the event which invited speakers to share knowledge in a punchy Pecha Kucha style and inviting the audience to present their ideas in free slots.
Speakers included:
Hattie Hartman, Sustainability Editor of the Architect's Journal
Claire Bowles, Project Director, Construction Knowledge Exchange
Martin Brown (FairSnape)
Paul Wilkinson, PR, Social Media & Sustainability
Prof. Angus McIntosh, Oxford Brookes University
Paul Toyne, Global Head of Sustainability at WSP
Duncan Reed, Design Manager at Balfour Beatty
Being prone to labouring a point, I was challenged by the Pecha Kucha style but managed to give a summary of the social media I've been using as part of architectural management teaching for developing reflective and collaborative learning as well as the #twittercritter events.  These experiences of using social media in learning can be directly supplanted into industry environments and specifically into project processes, to facilitate more effective collaboration, foster innovation and promote knowledge sharing – as long as certain guidelines are followed.  I'll go into that in more detail in a future post.
There was no agenda, no title and no specific focus for the presentation beyond sharing something that could contribute to the improvement of visionary sustainability thinking.  This allowed some serendipity in the coming together of seemingly different subjects, but deriving a common message.  It was all streamed live and suitable snippets tweeted (#be2gbe).
Duncan presented the vision of the Living Building Challenge, which offered the usual in relation to responsible material sourcing and performance but I was pleased to see the inclusion of nature, beauty and place as key elements of a sustainable building.  Paul Toyne gave a more global view emphasising the need to nurture and safeguard biodiversity and implement ecosystem management as this natural capital may be critical in our increasingly urbanised and climate altered future.  Prof. Angus Mackintosh also gave a well-illustrated comparison of Bournville (a liveable environment) and Cumbernauld (a not so liveable environment) to demonstrate the need for place and identity to be high priorities when defining sustainable cities.
Source:  Innovation Management
So, to synthesise these seemingly different subjects, a message that appears worthy of discussion is one of education.  Do any architecture courses have dedicated modules that focus on ecology, biodiversity, ecosystem management, landscape or place/identity?  I don't know of any.  If our built environment students do not graduate with a deep understanding of the science of environment that matches their understanding of building technologies, then surely all we can ever hope for is a superficial greenwash when it comes to built environment sustainability.            Discuss.