Social media meets sustainability May 8, 2014
Posted by jennibarrett in Uncategorized.
Tags: architectural education, collaboration, social media, sustainability
trackback
A great day at the fabulous GMex/Manchester Central (still full of memories of James's 1990 Sit Down gig) with the @Be2Camp  crowd at GreenBuild Expo 2014 and hosted by LSI GreenVision.  This year Be2Camp took control of the main stage, complete with headsets and roadie tshirts!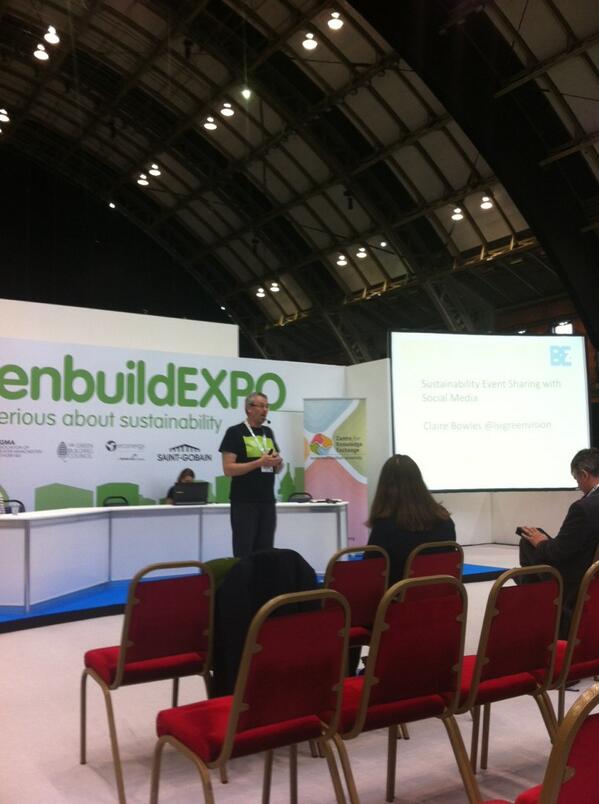 Highlights for me, were Alex Whitcroft's rapidfire talk on how the Collaborative Economy is changing architecture and construction as well as the initial forays into immersive environments that look set to change how we collect and disseminate building information during user/public/client consultation (David Burden).  I was also intrigued by Claire Thirlwall's possibilities for paperless project management.  I gave a brief presentation too – on 'Social Studio' which looks at the way social media could help in giving students (& industry, & practice) the best environment for discussing personal and collective values using a variety of interactive platforms – many of which we've already piloted at UCLan.  Here are my slides…..

Feel free to share & if you would like to find out more, feel free to drop me a line.
Also, here's a selective Storify of the event…